Holiday Apartment rental Marbella Spain between San Pedro and Estepona
El Paraiso, between San Pedro and Estepona, Marbella, Spain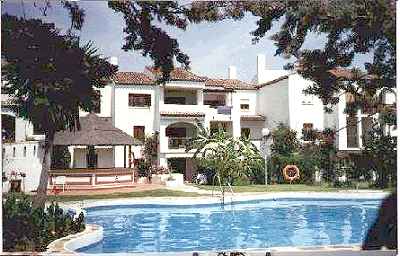 Ground floor with private patio and garden with direct access to communal gardens and pool. Over the road from beach. 2 minutes walk from local shops. restaurants and bars. Very close to many golf courses particularly the El Paraiso course. Newly furnished and equipped. 2 bedrooms - 1 x 5'bed 2nd with twin beds.
The kitchen has hob small oven and washing machine. There is a patio reached from the lounge and the main bedroom with private small garden leading to main gardens and pool. Fans in each room.
Over the road from beach. 2 minutes drive from golf courses. Keys are with an Agent over there.
The apartment is between San Pedro and Estepona at the bottom of the El Paraiso development, 2 mins walk from local shops and restaurants etc. It is 7 mins drive from Puerto Banus, and 10 mins drive to Estepona.
Tel (day) 07887 757888 (eve) 0208 907 0379 Email elparaiso@antibes.co.uk for more details. NEW ENTRY FOR 2002 - CURRENTLY GOOD AVAILAILABILITY FOR 2002
WHAT YOU CAN FIND IN THE IMMEDIATE AREA AROUND THE APARTMENT
The apartment is 2 minutes stroll from a variety of local shops, restaurants and cafes.
There's a Spar supermarket, and an Iceland store. Both sell a variety of groceries, baby foods, delicatessen, butchery, milk, fruit, vegetables and the all important, wines and spirits. Both also sell freshly baked bread each day, which is perfect for your breakfast on the apartments' terrace.
Most shops in Spain tend to close for 'siesta' from 1.30-2.00pm until 4.30-5.00 pm, and they are open Monday to Saturday. However Iceland, above, is open 7 days a week.
There is a Butcher, who sells a variety of meats, breads and croissants, as well as other shops, including hairdressers, video club, pharmacy etc.
There is a Newsagent, where you can find all nationality of newspapers. Most English papers are printed in Spain, and therefore on sale on the correct day.
You will find a huge choice of cafes and bars, where you can enjoy breakfast, snacks, main meals, and of course, what could be nicer than a coffee or a drink sitting out in the sunshine, watching the world and his wife walk by.
Some of the best Italian, Chinese, Spanish and French restaurants, can be found in our locale, so if you don't fancy driving to a restaurant in the evening, you have a good choice, within walking distance. How lovely to be able to enjoy a meal out, and enjoy a bottle of wine, without having to worry about getting a cab back. (In Spain they are very hot on drink-drivers).
On the opposite side of the main road is a Leisure Centre, with Tennis courts and many other sporting facilities. The Bowling Club is a short walk, past the local shopping parade, and of course a variety of golf courses.
ALL AROUND YOU
Approximate distances:
Ronda: 53 Km Malaga: 57 Km Cadiz: 205 Km Granada: 186 Km Gibraltar: 70 Km Sevilla: 206 Km Cordoba: 244 Km Madrid: 600 Km Mijas: 43 Km
There are several typical 'white' Spanish villages within an hours' drive of the apartment.
These are Mijas, Ronda, Istan, Casares, Arcos de la Frontera.
RONDA
The largest of the white villages is Ronda, which you can drive to from the Ronda Road in San Pedro de Alcantara. It is a fairly scary journey as you wind round twisty roads to reach the summit town of Ronda, but if you don't mind roads with sheer drops to one side, and twisty, snaking narrow roads, then it's well worth the effort of getting up there. It'll take about an hour to drive up there. Ronda is quite a large town, with a main Square with an old church. Cafes and restaurants surround the square, and it's really lovely to sit in the Square having a cool drink in the warm sunshine. Ronda also boasts the oldest Bullring in Spain (Plaza de Toros), which is rich in architecture, character and beauty. Love it, or hate it, bullfighting is an integral part of Spanish history and the bullring in Ronda is a must to visit while you are there.

Ronda also stands proud, high in the mountains and there are wonderful views into the gorge from the bridge (Puente Nuevo), which divides the old and new town.
MIJAS
Mijas can be found off the coastal road on the way to Malaga. It's a good place to visit on your way to the airport, as it only takes about 15 minutes to divert there from the main road, but about 45 minutes from the apartment.

It is similar in charm and history to Ronda, but is smaller and more compact. Parking is a nightmare, so grab a spot when you see one. It is also more 'touristy' than Ronda and you are hard pressed to find any shops other than those catering to the tourist trail.

Still, it's a lovely place to visit, and worth the journey. There are quaint village squares, and narrow alleys, with many cafes and bars to cool you down.
MARBELLA
What formerly was just a small Andalucian fishing village has expanded into one of the top European holiday resorts, and one of the favourite places for the rich and famous. The city is divided into various areas, and all are worth a visit.
Puerto Banus
We are lucky enough to have our apartment situated only 10 minutes drive from the famous port of Puerto Banus. Drive toward Malaga, under the San Pedro arch, through San Pedro, and turn off past the Pyr hotel, opposite the Andalucia Plaza hotel, following the 'Hipercor' small sign.

The meeting point of the jet-set, here you will find beautiful yachts, elegant shops and excellent (albeit pricey) restaurants. The area around the marina is the hub of the action. You will find multi-million pound yachts moored, and you will really see life, as the other half live it. If you like shopping, you will find everything you would like, just outside the port in a large department store called 'El Corte Ingles'. This store also houses a large hypermarket on the ground floor called 'Hipercor'. This store dow not close at lunchtime for the usual 3 hours. It stays open all day. There's a large car park, which is quite reasonable to use both for visiting the store, or the port. The newly built shops around the store are worth a visit too.
Orange Square (Plaza de Narajas)

Follow the signs to 'Cisco Antiguo' and you will find Marbella 'old town'. This is centred around a town Square which is lined with Orange trees – hence the name. The whole area is quaint, and full of charm and history. It's well worth a visit here. The shops are interesting and there is an abundance of restaurants. It's a good place to try a 'paella' the delicious traditional Spanish risotto. Don't forget, the shops close here for siesta, so that's always a good time to have a typical lengthy Spanish lunch.

PLEASE CLICK HERE TO VISIT OUR UP TO DATE WEBPAGE

ABOUT THE APARTMENT

Come And enjoy a lovely 2 bed / 2 bath apartment near Marbella. It is ground floor, with terrace and private garden that leads to communal gardens and pool with childrens area.
One of the great things about it is its position:
2 minutes walk from dozens of local restaurants, bars and shops
7 minutes walk from the beach and 3 muinutes drive to the El Paraiso golf course
Plus 20 golf courses within 10 minutes drive.
7 minutes drive to Puerto Banus,
5 minutes drive to our nearest town, San Pedro and 10 minutes drive to Estepona.

The apartment was purchased in June 2000, so everything in it is new. There is a 5' bed in main bedroom (which also leads directly out to one of the terraces), and twin beds in 2nd bedroom. Each bedroom has its own bathroom (main bedroom is en-suite) The kitchen is fully equipped with all you would expect including washing machine, microwave etc. The large lounge and dining room leads directly out to the main terrace and the apartment is well equipped with heaters and fans and has satellite TV and video.

It is beautifully furnished with modern furniture in a Mediterranean style.

USEFUL LOCAL NUMBERS (We hope not!)

Police 091

Marbella Fire Brigade 952 77 43 49

Estepona Fire Brigade 952 80n44 83

Emergency Doctor 061

Taxi 600 593 359 or 952 77 44 88

Click HERE to return to other Spain Vacation rentals

Here's an amazing old villa in undeveloped Northern Cyprus ideal for getting away from it all
French holiday villas and apartments for vacations with well illustrated webpages.